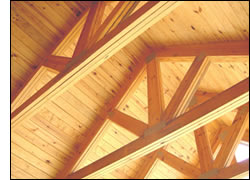 Roof Trusses are generally designed to replace stick framed roofs by utilizing computer aided design software to achieve a structurally superior shape that will allow most of the roof's loading to be carried to the outside framing walls. Your framers will be provided with detailed arrangement drawings indicating placement and installation requirements to meet all building codes.
Roof trusses are made up of three basic parts (top chord, bottom chord, and web) using two materials (lumber and plates). The computer software determines the size and grade of lumber, the pieces are put in place on a special table with a traveling press that presses the plates into the lumber to achieve a solid connection between the sawn pieces of lumber.
Benefits:
Roof Trusses save time and money by speeding up the framing process.
These systems apply the roof loading to the exterior walls, allowing more flexibility in interior design and foundation arrangements.
Theft loss is reduced because loose materials are not left on the job site.
All designs are individually engineered to meet local building codes, and are backed by three generations of experience in the building components industry.
Almost any configuration of roof can be designed and pre-engineered to assure proper fit and function throughout the life of the building. Vaults, scissors, trays, and other special design options can be incorporated into the truss system.
Built for strength and durability, our roof trusses assure you and your customer optimum structural integrity.